Building the Ultimate Long Distance Machine!
It only took two prototypes to get this one right.
Featured in the Iron Butt Magazine, Winter 2012
by Dayle Martin, AKA Quickdraw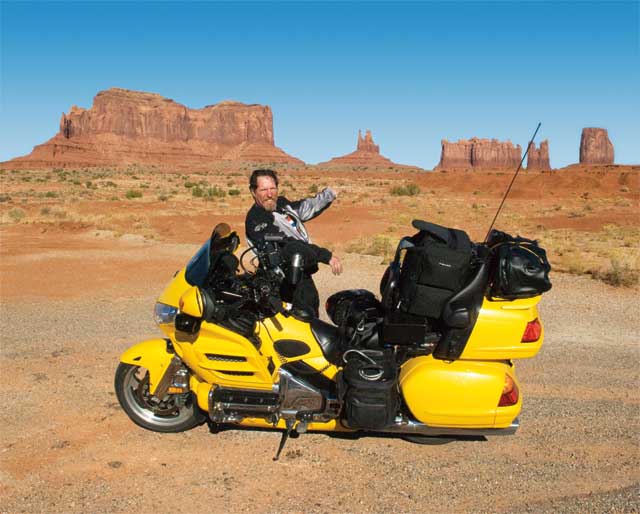 Quickdraw, the author, in Monument Valley with fully loaded Yellow Spot III
Before I bought the subject(s) of this article, I owned an '86 GL1200A and a '91 GSX750F. I loved the comfort and capacity of the Goldwing and the unflappable handling of the Katana. I'd been looking at a new bike for a few years. Sport touring bikes just didn't have the capacity or the comfort I required for the long days in the saddle I was starting to get addicted to, or the towing capabilities for a long weekend of camping that I enjoy occasionally. When the K1200LT hit the market I thought my sought after sporty-touring bike had been created, but I was not really interested in a dry clutch, pilot-shaft splines that required expensive maintenance, nor tires that lasted only 8-10,000 miles The new Voyager was a very comfortable fit, but not nearly sporty enough for my taste.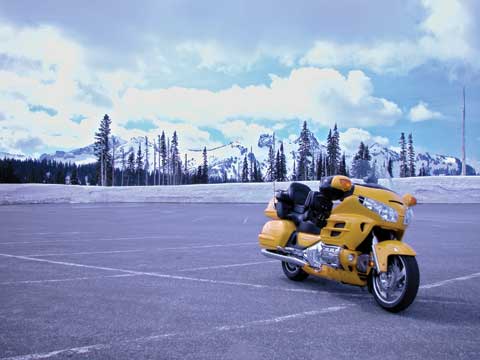 Yellow Spot I at Paradise
Then Honda introduced the GL1800. I signed up for a test ride in '01, was gone long enough that my dealer called the State Patrol to see if any motorcycle accidents had been reported, and returned with a permanent grin, hooked. My sporty-touring bike with on-rails cornering stability, eyeball-popping brakes and power to pull a fully loaded Kwikamp at way-over-legal speeds uphill had finally been created. I took a Hotrod Yellow '02 home for Christmas. She only lacked some cornering clearance to be a true 800 pound sportbike; some minor ergonomic modifications for days-on-end comfort; and a few functional farkles for competitive long-distance riding. Of course, there were a few things in the appearance department that needed tweaking and the sound system needed help. The bike got a name when first pointed it out to a friend from across the street, "That's my new Yellow Spot".
During the first year and a half of ownership I installed a few farkles and made some appearance enhancements: CD Changer, CB Radio, GPS, new speakers, radar detector, fender fillers, luggage rack, volt meter, handlebar risers, a few chrome bits, and painted some plain gray plastic.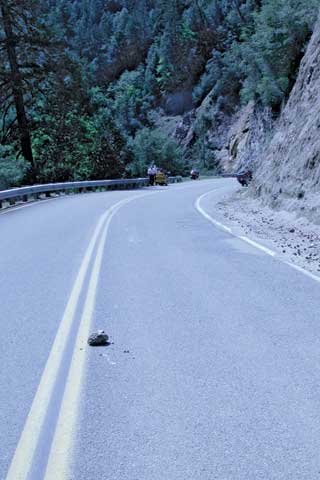 The scene after the hit.
Look closely in the center of the picture and
you can see scars on the
asphalt where we landed.
Enhancement making progress came to an abrupt halt in April of '04 when I hit a football-size rock that I should have seen but didn't, until it was too late. The bike was a total loss and was parted out. I was lucky enough to find an NOS '02 in Hotrod Yellow just 20 miles from home a few weeks later and with the help of friends transferred my accessories to the new bike within a week, so we could be riding again mid-May. Yellow Spot II was born and I was back on track . . . until June.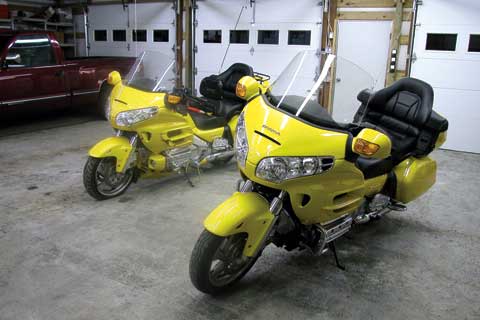 Yellow Spot I and II ready for accessory transfer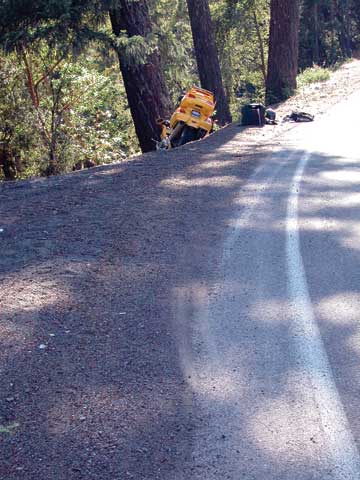 The scene after the hit
Catching a few back-roads with friends on the way to play in Northern California, where Yellow Spot I met demise, I moved toward the center line around a tight corner to avoid a bucket full of rocks in my lane. Something very slick and nearly invisible had been spilled on the road and my bike came unglued, but was kept from dropping 400 feet down the canyon by a very big tree. Thankfully I was only doing about 20 mph when I hit that stuff. Yellow Spot II was a total, but I wasn't going to part it out for a couple of bent fork tubes and some broken plastic.
In neither of those crashes did I get a scratch or even a bruise. I chock that up to pure luck and to always wearing good riding gear. I did ruin one perfectly good riding suit.
In July, I ordered an '05 GL1800 ABS in Hotrod Yellow from my local dealer – Shameless plug: South Sound Honda of Olympia, Washington (whom I rate at A++) – before Mother Honda released the official color pallet for '05. I lucked out on the color! While I waited the rest of the year for the new bike to arrive, I rebuilt Yellow Spot II and collected all of the accessories I thought I'd ever want for Yellow Spot III. In almost two years of ownership, I was pretty sure I knew which accessories worked best, which were best for my riding style. I did change my mind a couple times, as you'll read.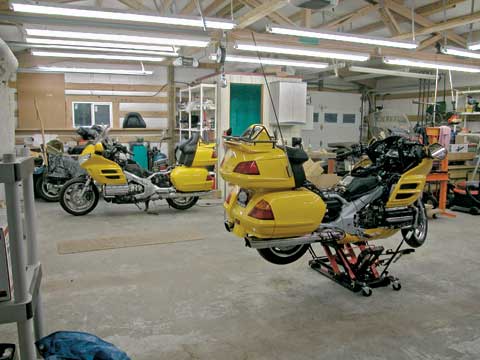 Yellow Spot II and III nearing completion
Let the Fun Begin!!!