Darn fortune cookies!
Mine said it was okay to change my plans.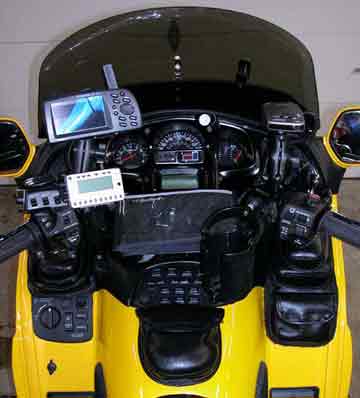 My office for the distance.
Iíd been trying to get back to Council Bluffs, Iowa for several years to visit my sister, Cindi, my four nephews, Mathew, Austin, Keegan, Riley, and her husband, Greg, but something kept getting in the way; first it was a crashed bike (actually two), then one of my shoulders needed work, then I had my jaw rearranged. This year both the bike and I were healthy and my brother in-law got a big promotion and was having a big Barbeque to celebrate. Ride to eat time? For sure!
The original plan was to put mom on the back of the bike and take the trip through Yellow Stone and the Black Hills on the way over and see parts of Colorado and Utah on the return. Well, mom wasnít feeling too good this year (sheís better now) and nobody else wanted to, or could, go with me. Time for a solo? For sure!
It was also time to change plans. Iíd wanted to run a Bun Burner or a Bun Burner Gold for quite some time. Now was the time! And, I hadnít had a vacation that lasted for more than four or five days in over thirteen years! The planning began years ago and got revived at the end July when I was told of the BBQ. Originally, the northern route over I-90 was my goal, but as time wore down the weather turned to winter unusually early. It was only 32 degrees in Billings, in the daytime (!) a few weeks before departure so I let discretion be the better part of valor and changed my plans. A more southerly route would be warmer. Good thing as youíll see.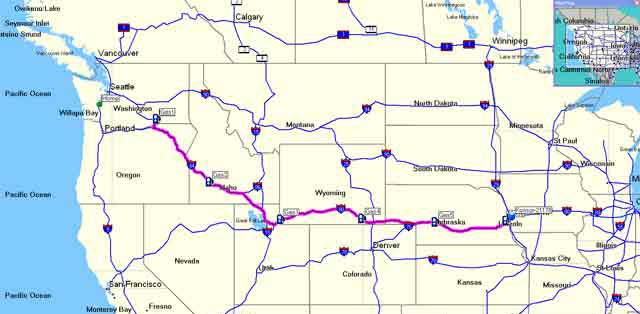 Complete Route for 9-25 to 9-26-07
I planned and organized; worked extra hours to get deadlines met and projects completed; collected information and supplies for the better part of a month while keeping an eye on the weather along the planned route. I thought Iíd get out of town for 9-10 days, but all the planning and extra work left me ready to go early. The weather forecast at home in Olympia was ugly for my planed departure date and a few days before, but nice for Sunday September 23, and I was ready to go! So I hit the road, stopping to visit with Redeye for bit on the way to my starting point. As I left Redeyeís and prepared to turn onto the highway, I had a brain fart and dropped Yellow Spot III at the stop sign. I lucked out when a young man pulled up behind me and offered to help pick up the over laden Hondapotamus. I said, ďIf this is the only time I drop the bike over the next two weeks Iíll be in great shape!Ē Little did I know how important that prophecy would be.
The final(?) plan was to start in Pasco, Washington where I could visit with my folks. After all, I was taking a vacation! The weather in Nebraska was pretty bad for Sunday and Monday, but nice for Tuesday on. So I got to visit for a couple days. I slept well Monday night, had a nice breakfast, repacked a few items and got my first receipt at 8:23 am. I could have saved a little time by getting my first receipt on the outskirts of town, but didnít figure the extra 20 minutes or 5 miles would hurt anything. I wore the Dianese bib pants that I won at the í05 Spring Fling Rally with the nice quilted liner (the most comfortable pants I have ever owned), LD shorts, First Gear Kilamanjaro jacket (I forgot to take the fleece liner with me which would have come in handy as youíll see), Gerbings Jacket liner, short sleeve t-shirt, Sidi Sympatex boots, some new anti-bacterial knee-high socks I just got from Aerostich (very comfy!), and my icon vented mesh gloves. I knew the weather would be cool for most of the 1500+ miles and hoped it would not get too warm for this gear so I could wear it the full distance. All of it was water proof in case the weather reports were inaccurate. I did pack a full set of mesh gear and extra gloves including some Olympia winter weight gloves.
Leg One
With tanks full (11.4 gallons total) and a log sheet with mileage, time, receipt number, fuel amount, location, and total-available-time-to-stop stuck in my map pouch so I could make sure I stayed on track and on time, I hit the road. The first leg took me from Pasco, WA to Mountain Home Idaho via WA 395, I-82, and I-84. The temperature was just right: almost 60 degrees! I saw more departed retreads in my lane on this trip then I ever remember seeing before, but was able to avoid them all, and I saw more one lane construction areas then I had seen on any previous ride. Maybe it was a conspiracy; but Iím sure glad I was paying attention and had good lights at night.
Those one lanners slowed my speed to as low as 45 mph and they went on for miles! I got popped with laser on a downhill make-up-run in Oregon, but didnít get stopped. I thought for sure I was going to have to buy a fun-ticket, but I must not have looked too much like an outlaw. I was hoping to make the full first leg of 336 miles without an extra stop, but my bladder got full before the Idaho border and I pulled into a rest area for some relief. As luck would have it, the restrooms (menís and womenís) were out of order, closed, unavailable! I had no time to waste so I peed on a tree as other motorists suffered the same disappointment. Lunch hour traffic in Boise was relatively light and I was able to keep the speed up close to the limit. I made Mountain Home and got my gas receipt at 1:16 pm (times listed here are all Pacific for simplicity but I did log the time zone and local times at each stop) for 9.53 gallons of regular, went potty, walked around a bit to stretch my legs while I ate a quick Powerbar and got on my way in short order. In addition to a quick walk at each stop, I have found that if I start stretching my legs early on during these long rides, my knees donít get nearly so tired. My highway pegs are set so I can straighten my legs completely and lift my butt only slightly off the seat.
Leg Two
This Leg took me down into Utah on I-84/I-15. That part of Utah is so empty that I couldnít resist wicking it up a bit before the traffic got thicker near Ogden where I hung a left on I-80. The little stretch into Wyoming though whatever canyon that is, is kinda pretty. I might have stopped for a photo had time allowed. I was a bit too warm with the gear I had on for only about a half hour during this leg. I made the second gas stop in Evanston, Wyoming, at 666.9 miles for 10.1 gallons and a receipt, hoping for something warm and quick to eat but the station I stopped at wasnít so equipped. I had a quick, cold, tuna salad sandwich, changed into my winter gloves and night vision goggles at 5:55 pm and got back on the road. There was one extra potty stop before Evanston, but I donít remember where it was, then again maybe I didnít stop(?).
Leg Three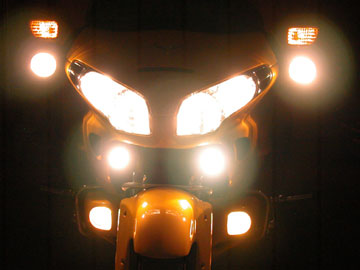 All the lights are kinda hard to use in traffic.
The sun was beginning to set behind me and the full moon was rising ahead of me as I cruised across Wyoming. It was well into dark as I crossed the Continental Divide. The temperature at the top was 37 degrees. Thanks to Gerbings and heated grips I was comfortable. Then my heated stuff quit working. Oh crap! I was just starting to get chilled when the heat came back on. I patted the bike on the windshield, ďGood bike!Ē As I dropped into the flats the temperature rose to 43 and held until the sun started to come up. I made it to Laramie at 10:17 pm and 974.5 miles without any extra stops, but my gear had quit for good and I was cold. I stopped for 8.5 gallons of fuel, a receipt, a full cup of coffee (I filled my heated coffee cup out of habit at each stop), and because I was so cold I went into the restaurant and asked for the fasted warm thing on the menu! The waitress suggested the soup & salad bar; great! That soup was hitting the spot and then she suggested I have a really fast grilled ham and cheese. I was ahead of schedule so I obliged and left a big tip as I walked out with a full thermos of hot coffee. Actually I was adjusting the load on my bike when the gal came running out with my thermos. I almost left it behind!!! Dang lucky I had a loose strap on the trunk-rack bag, eh? I was warm again and back on the road by 10:48 pm.
Leg Four
I continued to get cold, but I made it to North Platte by 2:20 am, at 1244.5 miles, for a receipt, 8.2 gallons of fuel, and an energy drink. The full moon was above me as I went inside the station to potty and warm my feet. Then I removed a seat cargo bag and a side-cover to see it I could find the electrical problem. I knew which circuit it was by which farkles had quit. I was hoping it was just a relay, so I changed it out with a spare. KEWL! The farkles started working again, I had heat, the bike was back together and I was on the road again at 2:49 am. Alas, as I pulled out of the parking lot the farkles quit working again!!! So I trudged on toward my last stop.
Leg Five
As the sun started to creep above the horizon somewhere west of Omaha the mooon was well behind me. I was getting freaking cold again, so I stopped at a very small station 100 or so miles west of Omaha, slammed an energy drink inside while I warmed my feet, then pulled that darn bag and side cover again to see if I could find the problem with the farkle circuit. I could make it work if I held the wire in just the right place, but no permanent fix was available, so I got back on with warmed feet, after chatting with a couple on another 1800 Wing, for the last leg to south Omaha after the sun was a little higher in the sky and more out of my eyes. I was plenty ahead of schedule, so I probably spent a full half-hour resting and warming there.
The Finish
I made my last stop for 8.1 gallons of fuel at 6:48 am Wednesday (8:48 local time), and 1512.5 GPS miles, called my sister to let her know I was in town, took a picture of the GPS trip log and proceeded to fight morning traffic through Omaha on my way to my destination in Council Bluff Iowa, 27.2 miles further northeast. Oh, that moon was the second full moon of September!
The Stats: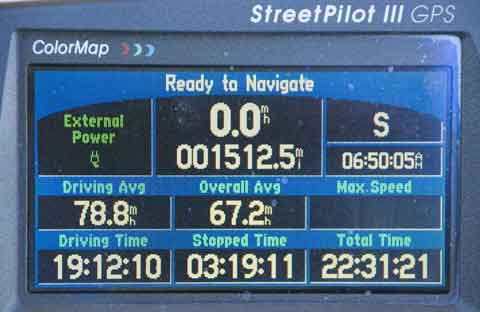 Top Speed has been censored to protect the innocent.
The Last Few Miles
I arrived at my sisterís house in Council Bluffs even before my 24 hours were up, but I had to keep a close eye on the GPS. My old Kennedy Dualset had given up completely somewhere in Wyoming and Shirley could no longer argue with me. Seattle traffic practice made staying out of trouble through Omaha pretty easy though groggy-minds and heavy traffic arenít a good mix. Once off the interstate I found the short stretch of country road leading to Cindiís driveway to be gravel on hard pack. I was pooped and sure didnít want to drop the bike at that point in the game so I came to a nice easy stop at her driveway and contemplated how to best negotiate the potholes. Aim and shoot seemed to be the best solution. I had to do the same at the other end of the drive as I approached the concrete hill at the base of her yard. I sure felt good to finally park the bike, climb off and stretch.
Not a bad ride, eh?
It was a GREAT RIDE!!!